HydroGienic® System at Quotient

Case Study: HydroGienic® Installation at Quotient Flagship Science Campus
Photo: Honeyman Group Installs HydroGienic® Water System at Quotient's Science Campus in Edinburgh.
(L-R) Gordon Robb (Vice President of Operations of Quotient), John Backes (Honeyman Group Operations Director), Tom Honeyman, (Managing Director of Honeyman Group) and John Widdowson (Honeyman Group Engineering Team Leader) at the opening of Quotient's Campus.
Winner of the prestigious Queen's Award for Enterprise: Innovation 2018 and the international Cleanroom Technology Innovation Award 2018, HydroGienic® is a tried, tested and trusted plug-and-play pure water distribution system.
HydroGienic® Installation at Quotient
A recent adopter of the HydroGienic® system is Quotient, a commercial-stage diagnostics company committed to reducing healthcare costs and improving patient care. The company offers innovative tests for blood grouping and serological disease screening, commonly known as transfusion diagnostics. The company recently inaugurated its state-of-the-art Allan-Robb Campus, just outside of Edinburgh, which houses the company's R&D, reagent manufacturing and management.
In commissioning the construction of the campus, Quotient selected Honeyman's HydroGienic® system over other options on the market. "The key advantage to us of the HydroGienic® system is the ability to bring down parts of the system while keeping the rest of the system operational. This translates into two major operational benefits. The first is that this gives us the ability to maintain production, while enabling us to isolate the impacted area. Second, it reduces spending on externally sourced water, which in turn removes the guessing game for purchasing," said Gordon Robb, Vice President of Operations of Quotient.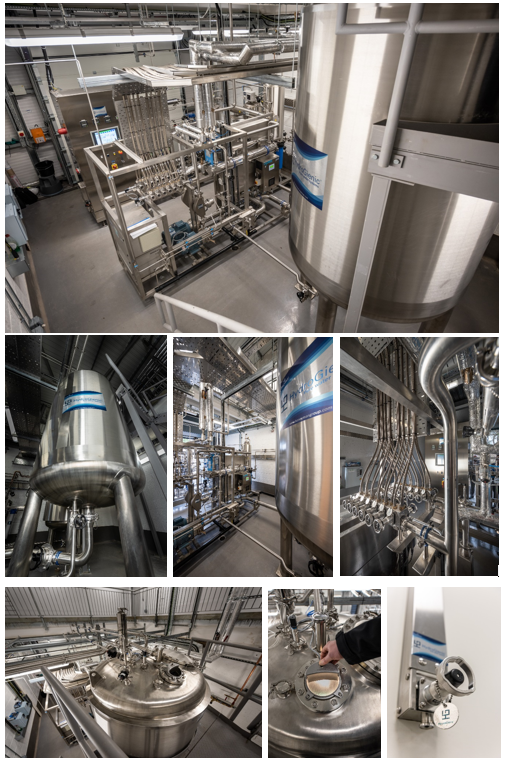 Photo: HydroGienic® Water System at Quotient's Science Campus – Skid, Storage and Distribution to Outlet Manifold End User Point.
"A new water system purchase is not an easy decision, as it means adopting a new technology with the associated impact on a highly regulated pharmaceutical production environment. But industry references gave us confidence to work with Honeyman – as did our own experience in the past working with the company," Mr Robb added. "The new HydroGienic® system flexibility fits with our growth plans. When we need to expand the system, we can increase the number of distribution points with minimal impact on the business. We can now easily add to or isolate parts of the system," said Mr Robb, "By comparison, a traditional system would need to be taken down on a regular basis and would have associated costs for sourcing water."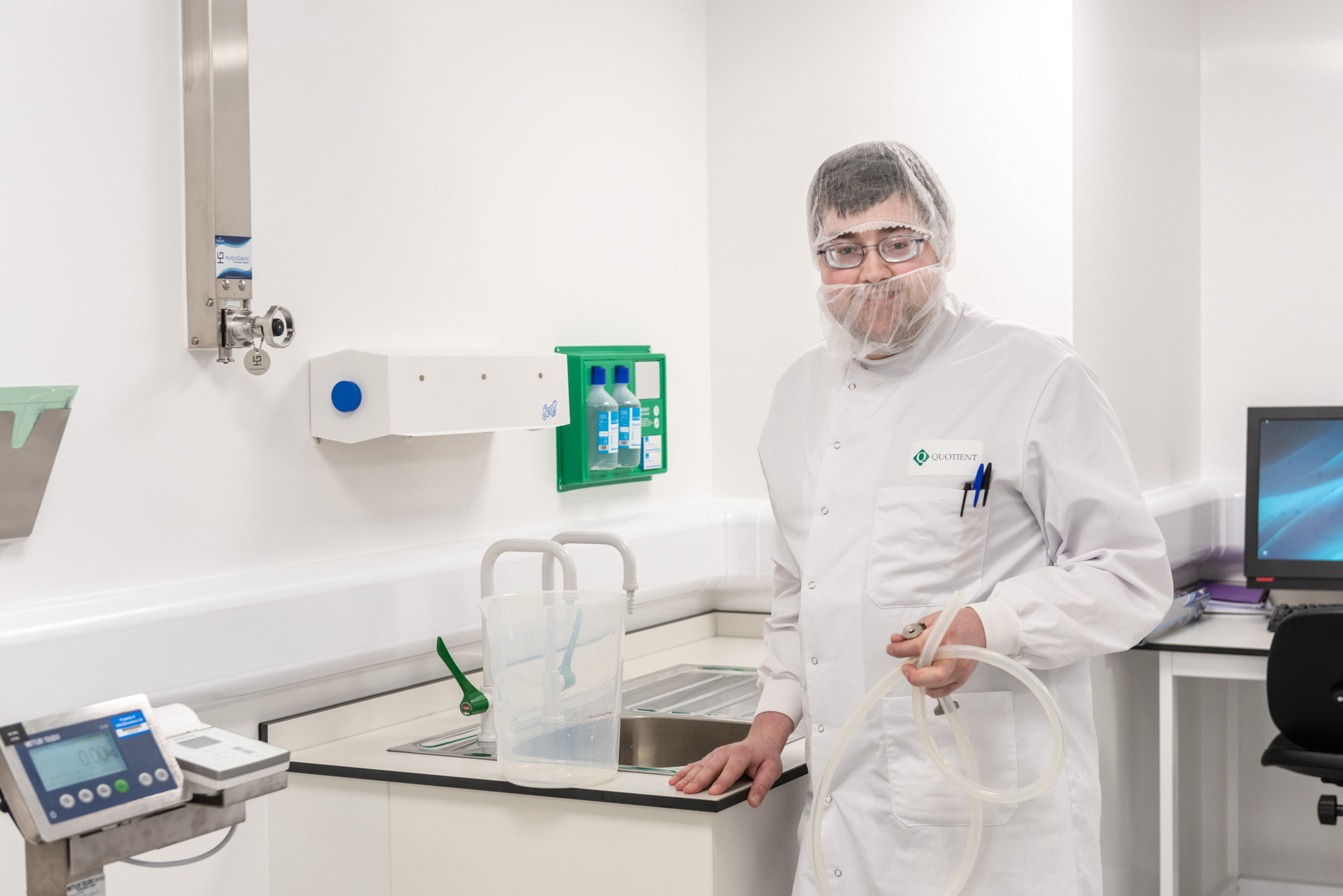 Photo: Quotient Operative at HydroGienic® End User Point.
The commissioning of the HydroGienic® system reinforced this trust. "Right from the outset, we found Honeyman to be extremely professional in all aspects of their work. The design team ensured that the system addressed all our requirements," Quotient Project Manager, Mark Turner, said of the commission. "The installation team were very careful and considerate throughout and always found a way to get the job done, even when some other activities at our site presented them with significant logistical challenges. Most importantly, Honeyman was meticulous during the system commissioning and qualification phases. The team ensured that every single test was executed and documented to the highest standard."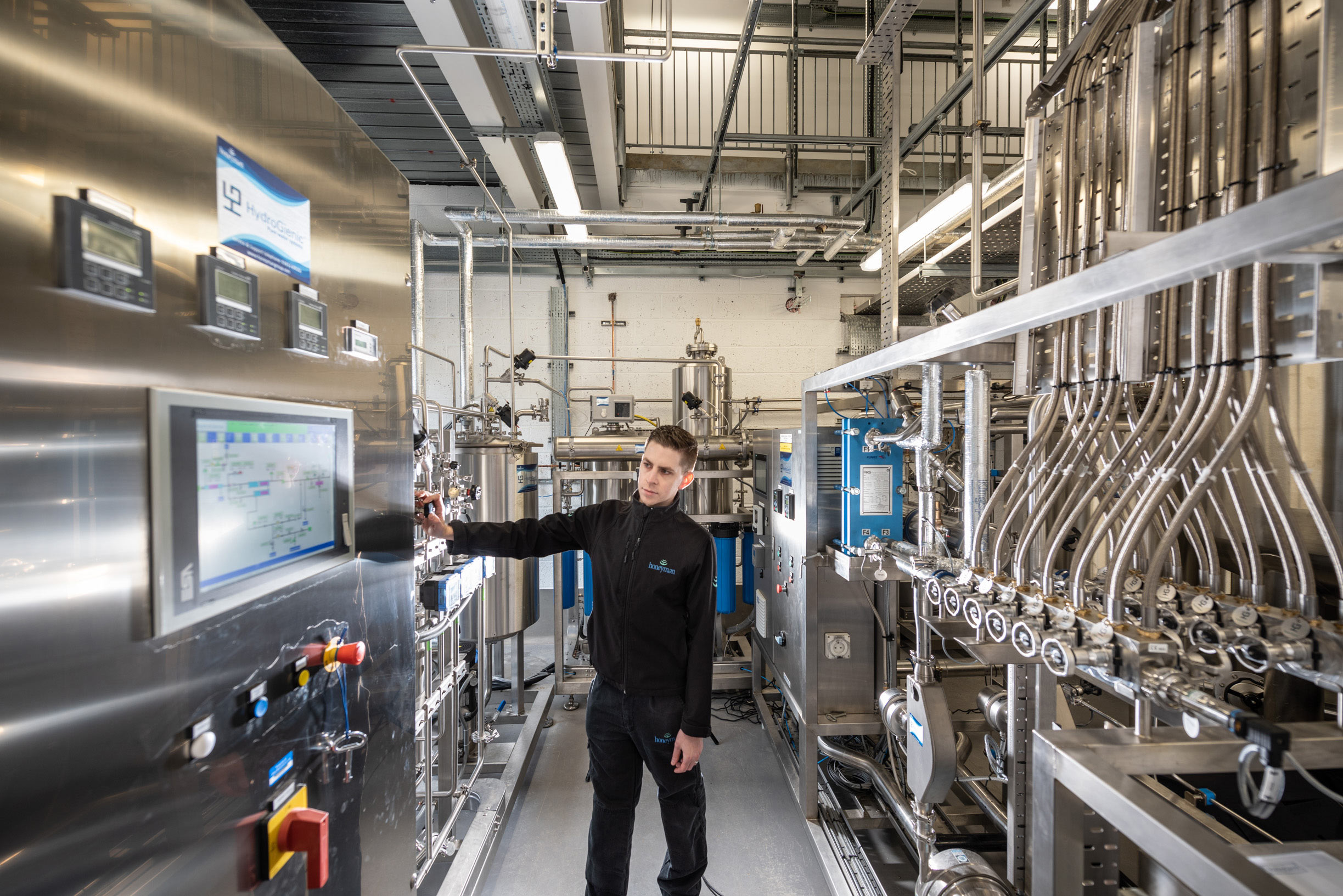 Photo: Honeyman Engineer Validating HydroGienic® Water System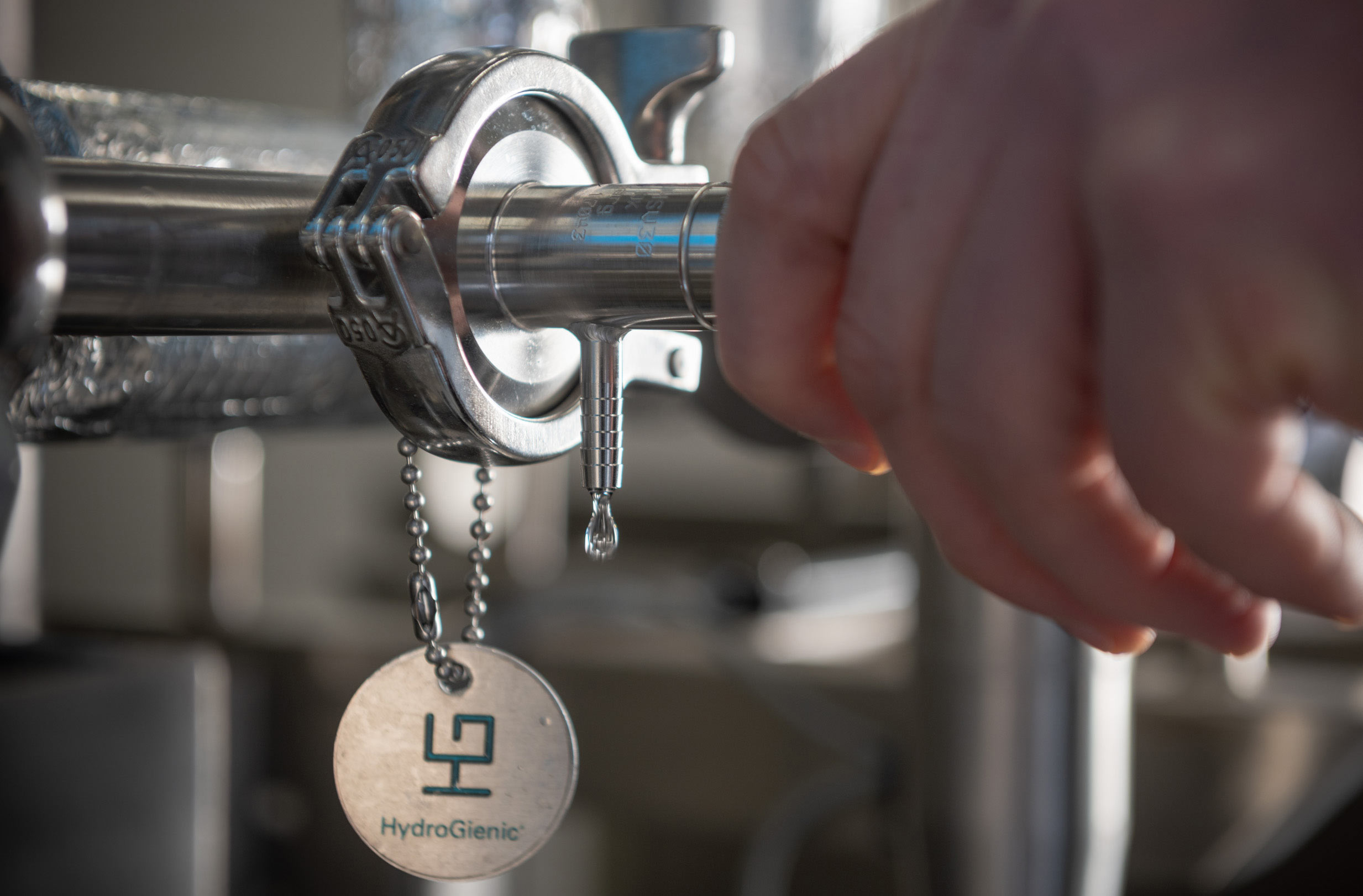 Photo: HydroGienic® Winner of the Queen's Award for Innovation 2018
HydroGienic® is a bulk pure water distribution system developed by Honeyman Group Ltd to address problems and restrictions associated with existing systems in the pharmaceutical industry. Typical water distribution systems work on a stainless steel ring main style layout. This means that if one part of the factory requires changes made to their water supply, the whole system has to be closed down and re-validated before it can be used again.
The HydroGienic® system utilises a central storage tank, with each area of the factory supplied through its own send and return hoses. These are connected through a specially designed "plug and play" manifold. This patented system ensures each offtake can be isolated individually. The adaptability, flexibility, and resultant cost saving is significant, translating directly into increased production efficiency, and performance, over the lifetime of the system.
Click to View Quotient HydroGienic® Case Study Video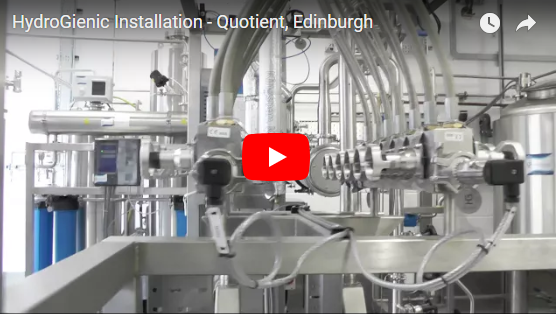 To find out how HydroGienic® can support your future water needs, please contact us.
To Request Further Information Please Contact Us:
Contact Us
Our Customers: