Purified Water Systems

High Purity Water for Pharmaceutical Production
Purified Water Systems
Purified water systems may be used for a variety of purposes in pharmaceutical manufacturing. For non-parenteral products it may be used in product formulation and final washing of process equipment and containers. In the manufacture of parenteral products it may be used in the initial washing of containers and to feed WFI systems.
To produce Purified Water, it is necessary to remove organic substances, high and medium molecular weight ions and bacteria / pyrogens to a level that meet the Eur.Ph, USP or JP requirements.
Purified Water is obtained by further purification of RO or Pre-Treated Water through Ion Exchange Deionisation/Demineralisation (DI), Electro Deionisation (EDI/CEDI), Ultra-Filtration and UV light treatment depending on the grade required.
Honeyman Water has built a market leading reputation on designing Purified Water systems that work for you, irrespective of the desired grade, capacity or application. Our water systems are designed and built to ensure:
Standard skids available in capacity varying from 500 to 16,000 lph (litres per hour)
Bespoke solutions available upon request (higher – lower flow rates, duplex systems etc)
Compliance with cGMP, Eur.Ph, USP and JP regulatory requirements or site-specific requirements
Sanitary in-line instrumentation to monitor product critical parameters such as conductivity, temperature, pressure, UV light intensity and flow
Skid based solutions with minimal footprint
Available as chemically and heat sanitisable systems
High level of water recovery to reduce water wastage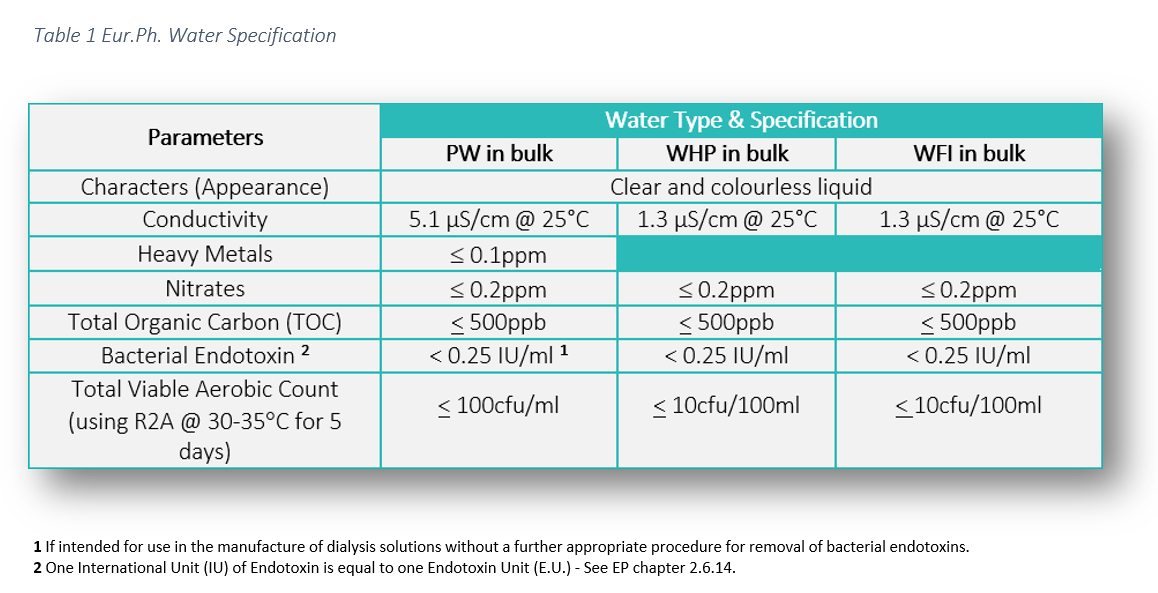 Depending on the required grade, our typical Purified Water generation systems may consist of:
Single or double osmotic stage
Degasser
Continuous Electro-Deionizer
Hollow fibre Ultra filtration
UV lamps
Whether your requirements are for a new Purified Water system, an upgrade of your current system or if you would like to discuss your Purified Water distribution loop replacement or installation, please contact us.
Our team of quality water experts will be glad to discuss your needs and provide a suitable and workable solution for you.
To Request Further Information Please Contact Us:
Contact Us
Our Customers: