HydroGienic®

Reduce downtime, improve your bottom line
HydroGienic®
HydroGienic® is an innovative, proven and patented pure water distribution system, delivering purified water or WFI to each point of use directly from the storage tank through PTFE hoses in a parallel delivery, rather than the conventional way of a stainless steel ring mains.
The innovative part is the way that high volumes of water can be delivered to each user point through relatively small borehole PTFE hoses, thanks to a patented dual manifold system, allowing water to continuously circulate and deliver flow to each user as and when required. This is achieved by reversed flow in the return line to deliver dual flow (through both to- and return hose).
The HydroGienic® distribution skid and PTFE hoses are suitable for all grades of purified water, and are fully sanitizable by heat, Ozone and chemicals.
The use of small bore PTFE hoses leads to simple installation from the plant room to each point of use, like installing electrical cables, and does not require hot welding unlike the conventional stainless steel ring mains. By eliminating hot welding on stainless steel piping, the HydroGienic® system eliminates the need to use and dispose of hazardous chemicals which are needed to passivate stainless steel pipes after welding is completed, making HydroGienic® a more environmentally friendly system.
Each user point is connected in parallel which means additional user points can be added without disrupting the other user points. In conventional stainless steel systems, removing or adding a user point, require the whole loop to be drained, before you can cut into the loop. This leads to complete downtime of the whole system affecting production output and potentially costing £ millions in lost revenue.
The main benefits of HydroGienic® over conventional stainless steel loops
During Install, commissioning and validation;
50% reduction in total installation time and 75% reduction in "plant room to user-point" installation time, vastly reducing disruption to the current production area, and reducing overall project time and cost.
HydroGienic® can provide capital savings in the order of 25% on systems typical for the industry.
Vastly reduces and simplifies validation effort and cost, as NO hot welding is required in production areas – minimising facility disruption
Eradicates the need to degrease and passivate the piping system – no harmful chemicals to dispose of
Delivers 100% diversity i.e. all users can draw water at the same time without impact upon individual user pressures and flow-rates
Easy to install along existing conventional pure water systems e.g. those requiring new or additional users without disruption to the existing distribution loop
Did you know that virgin PTFE: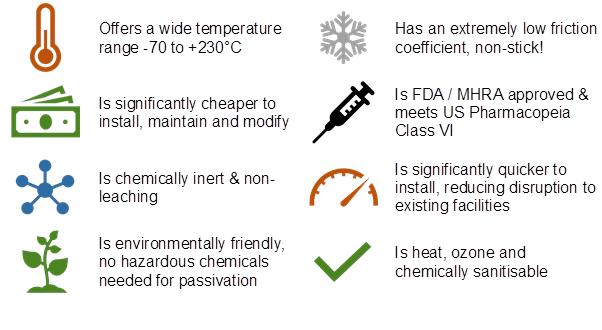 During Hydrogienic® operational life expectancy;
Lifetime cost of ownership cost reduction of 90% compared to conventional stainless steel loop or an ROI of 400% over 20 years against conventional stainless steel
"Plug and play" addition of user-points with minimal disruption to production and minimised validation cost due to its parallel design and absence of welding inspections
Significantly reduces the risk of rouge formation, PTFE will not rust
Meets all cGMP and regulatory requirements (FDA, MHRA etc.)
For these reasons HydroGienic® is quickly becoming the preferred choice of pure water delivery system for the pharma and biotech industries in the 21st century.
To see real-life business cases of HydroGienic® in comparison to conventional stainless steel ring mains, please visit our Knowledge Hub or click here to view The business case for HydroGienic®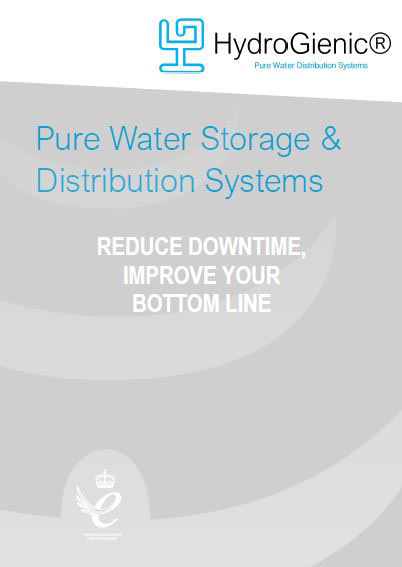 To discuss how HydroGienic® can work for you, please contacts us with your details and a brief introduction, so we can arrange a call back at a time convenient to you.
To Request Further Information Please Contact Us:
Contact Us
Our Customers: